Greetings from the rector with a happy New Year and Christmas!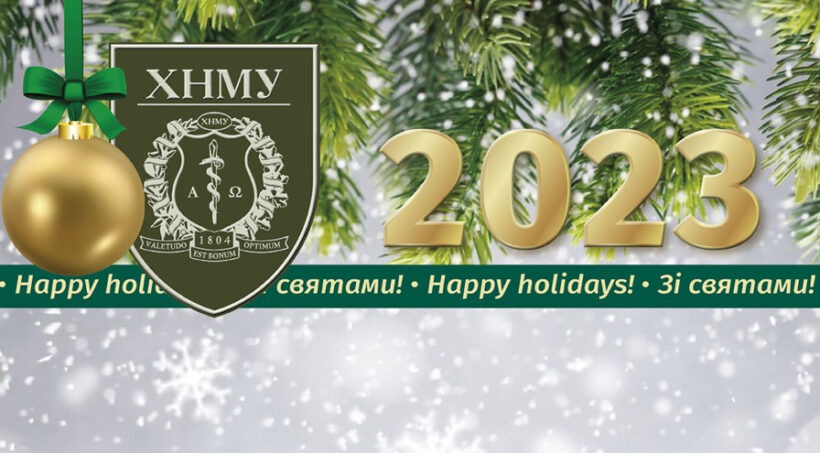 Dear colleagues!
I sincerely congratulate you a happy New Year and Christmas!
All of us always wait for the New Year holidays. But this year our plans were destroyed by russian aggression. For almost 10 months, we have been fighting for our Independence and Freedom, waiting only for one thing – Victory over the enemy. Therefore, the New Year is a chance to make us a wish and we know how it will be look like.
We traditionally summarize the past year before holidays. Despite the constant shelling and air raids, the lack of light and the enemy's attempts to break us, we worked and continue to work. Our university community did everything possible to improve the academic process only and also to help the country in these extremely difficult times. Our students and employees worked around the clock in hospitals and ambulances, saving the lives of defenders and civilians, and set up first aid stations in subways. Our foreign students help our people here, in Kharkiv, – thank you very much. We know about your support and appreciate it every day. Many of us volunteered and helped the Armed Forces – we organized gathering money for the necessary ammunition or equipment, made sweets and candles, supported the morale of the defenders. We were able to organize trips for our students to friendly countries, where students could improve their theoretical and practical skills. Teachers and staff also visited many countries and participated in international online forums. We closely cooperated with other universities within the framework of the Ukrainian-Swiss project and received many thanks letters from colleagues. The whole world knows about us and people are proud of us. I thank you for your patience, courage and bravery.
I am sure that the next year will be special for us, because we will celebrate our Victory and gradually return to our usual life. Our university will open doors to teachers, students and staff, and we will work even harder for the good of our country. We still have many plans and we will implement it into life confidently and perfectly.
I want to wish all of us peace, harmony, patience and health. The enemy will not break us! We continue to work. Everything will be Ukraine, everything will be KhNMU!
Rector of the university Valery Kapustnyk.