About us
The Centre of Preclinical and Clinical Researches of KhNMU was established in order to conduct, coordinate, guide and control preclinical and clinical researches of drugs, biologically active substances, medical equipment and materials on the clinical substructions of the university.
The Center promotes preclinical and clinical researches at clinical departments of KhNMU (44), in educational research and production associations (6), in scientific institutes (The Research Institute of Occupational Hygiene and Occupational Diseases of KhNMU and the Ukrainian Institute of the Clinical Genetics of KhNMU), The Dental Center of University; The Scientific and Practical medical center. The Center provides effective interaction of all services and structural divisions of the university (the commission of ethics and bioethics, departments, clinical and administrative divisions).
The Center represents the interests of the University and ensures the proper cooperation with developers and their representatives, other Ukrainian and international organizations.
The Center provides the necessary level of researchers` and doctors` knowledge in the field of international standards of Good Clinical Practice (GCP) and the principles of evidence-based medicine.
Contacts
Address:
Nauky Avenue, 4, Kharkiv
Director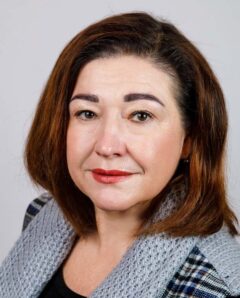 Makeeva Natalia Ivanovna
Doctor of Medicine, Professor
Directions of the work:

The Centre of Preclinical and Clinical Researches of KhNMU affords a wide range of services to different companies (pharmaceutical, manufacturing, biotechnological) in order to provide preclinical studies of drugs, clinical trials (II-IV phases), bioequivalence of drugs (generics), medical devices.
Extensive experience in providing of preclinical and clinical researches in various fields of medicine, including rare diseases.
Work experience and knowledge of the international market of clinical trials.
The database of researchers and research centers.
Existence of own bed stock for research, clinical bases of the University for different medical directions.
Highly professional staff which regularly participate in international and local certificated trainings under the ICH and GCP programs.
The acquirement and strict following of international and local laws.
Establishing of the long-term partnerships with customers because of high quality services and cooperation flexibility.
Oncology (lung cancer, bowel cancer, kidney cancer)
HIV
Infectious diseases (skin infections, influenza, Covid-19)
Pulmonology (pneumonia, bronchial asthma, COPD)
Cardiology (hypertension, acute heart failure, coronary heart disease)
Neurology (migraine, multiple sclerosis)
Vascular diseases (diseases of peripheral arteries)
Metabolic diseases (diabetes of type I and type II, gout)
Rheumatology (rheumatoid arthritis)
Nephrology (CRF, urinary tract infections)
Ophthalmology (uveitis)
Surgery
Pediatrics (bronchial asthma, pneumonia, urinary tract infections, bacteremia, insufficiency of somatotropic hormone, hypertension)
Neonatology (sepsis, hypothyroidism, adrenogenital syndrome)
Rae diseases (Crohn's disease, cystic fibrosis, Fabry disease)
GlaxoSmithKline (The United Kingdom)
AstraZeneca (The United Kingdom)
Novartis (Switzerland)
ICON Pharmaceuticals (Switzerland)
Ano Sanofi – Aventis (France)
Teva Pharmaceuticals (Israel)
Hoffman La Roche (Switzerland)
Janssen Pharmaceuticals (Belgium)
Pharmanet
Covance
IQWIA
Paraxel
KCR
MERC