Kharkiv National Medical University is an international institution of higher medical education having many years of experience in teaching international students. We have created conditions to provide high quality educational services, comfortable living and student leisure.
Our University will become your alma mater, as well as of more than 10,000 international graduates from 120 countries who have already become native here.
You will be able to practice the theoretical knowledge obtained at the university in the classes of simulation training in obstetrics and gynecology, surgery, pediatrics, internal medicine, emergency medicine, family medicine.
You will be able to achieve your full potential, gain new experience, immerse yourself in the international world of students by participating in our academic mobility programs. It will be convenient and comfortable for you to expand your research interests at our Scientific Library, which is the intellectual, communication and innovation center of the Medical University.
The education at the university is provided in various formats such as distance, blended and full-time learning and takes place at 70 Departments and 47 attached clinics of the university, KhNMU Hospital and the University Dental Center.
We are waiting for you! Become a member of the international family of Kharkiv National Medical University!
We are the best in Ukraine! KhNMU is the university, studying in which is chosen by the majority!
The University library is the space of strength, opportunities and creativity!
KhNMU students' and graduates' opinion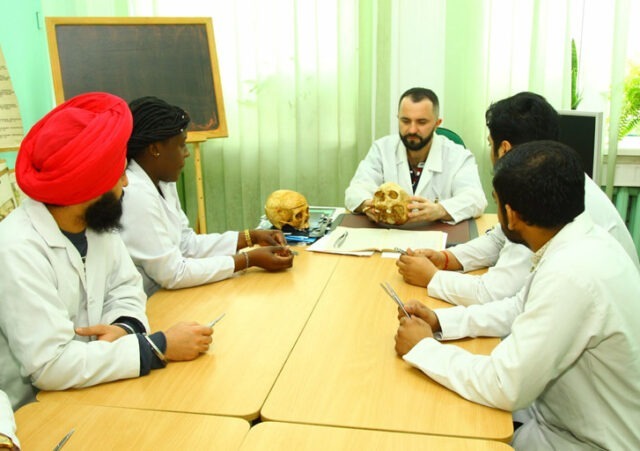 Studying at our university is very interesting and exciting. The junior students master theoretical knowledge, which is then practiced in classes and laboratories. To this end, our departments are located at 47 attached clinics in specialized medical institutions, the University Hospital and the University Dental Center.
To ensure the quality of the educational process, the university has organized stimulation classes to master the skills in Emergency Medicine, Internal Medicine, Obstetrics and Gynecology, Surgery, and Pediatrics, which are equipped with new state-of-the-art simulators, mannequins and phantoms.
At the Center for 3-D Technologies you will learn about innovative methods of 3D-simulation, prototyping, 3D-scanning and 3D-printing. Human Anatomy Department will teach you the structure of the body using interactive demonstrations and up-to-date equipment and teaching aids made from new synthetic materials. You will learn how to treat a virtual patient and how to study in a virtual classroom.
In addition to in-class sessions, our university has made extensive use of distance and blended learning to offer our students adapted variations in the learning material perception, providing the study process with new nuances and new concepts. After all, distance learning is an individualized, student-centered process of gaining knowledge, skills, and abilities as well as means of human cognitive activity.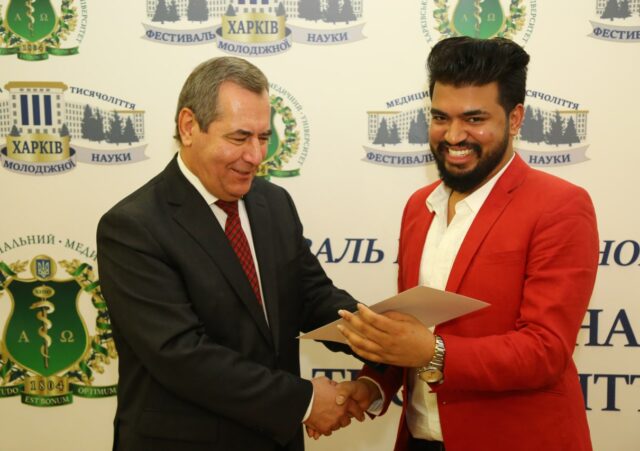 Studying at our university does not end with obtaining a specialist diploma. Your professional education is going to be life-long, and you will always rely on research, in which you will take an active part, starting from your student hood.
Being a junior student you will be able to choose the field of medicine that interests you and become a researcher by joining the department's Student Scientific Society. You will have the opportunity to present your research findings at university, national and international student conferences, forums and congresses.
In this way you will join the world medical community, and science will become your reliable companion throughout your professional life!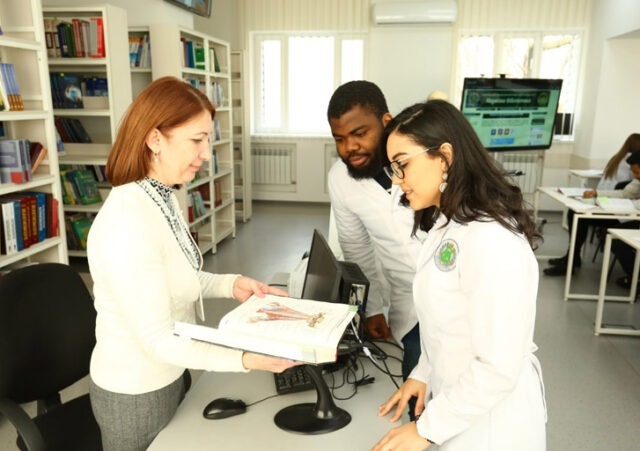 At present, the scientific library of the University is a modern information complex with a wide network of points of service for the readers of all categories. It has 5 departments, 15 reading rooms and rooms for independent work. The students have access to the library fund, which exceeds 1 million copies, including more than 42,000 in digital format. The library has its own website, gives access to both national and international educational and scientific resources.
The students can study, communicate, use audio and video materials, discuss different projects, prepare for competitions, classes, organize and hold various case-studies, BattleMed tournaments, round tables, quests, creative and literary events, etc., as well as international teleconferences, research and practice events from regional to international level. All necessary conditions have been created to make the training of future doctors interesting and useful.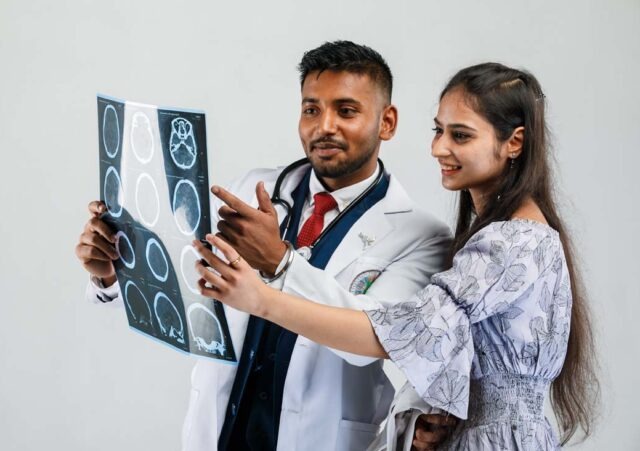 Medical work placement is the basis of professional training of every medical student. Studying at our university, you will get enough opportunities to develop practical skills and abilities.
Your practical training will be based on the achievements of world medicine, including the rich clinical experience of Kharkiv medical school. For this purpose, KhNMU University Hospital and KhNMU University Dental Center implement a multidisciplinary approach to diagnosis, treatment and rehabilitation of the patients, introduction of advanced medical technologies into practice and teaching process, and are aimed at integration with foreign hospitals.
Your work placement as a senior student will be held directly at our attached clinics and hospitals. You will be able to work at the patient's bedside, take medical history and make the diagnosis under the supervision of your curator. In addition, you will have access to interactive tools to work out the acquired skills using simulators.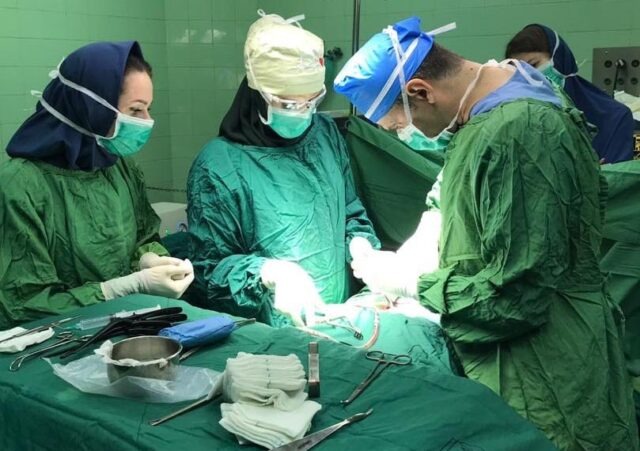 Kharkiv National Medical University strives to enlarge and enrich international contacts, and to strengthen its credibility in the world. The University is a reputable partner for about 100 institutions worldwide and confidently enters world research and higher education area. We have an extensive experience in academic mobility, international research with broad impact, capacity building projects, and educating international students from all over the world. Kharkiv National Medical University offers a large number of academic mobility programs for national and international students: summer schools, internships, trainings and teaching in our partner institutions around the world, Erasmus+ KA1 programs, thematic internships, as well as lectures and courses in non-formal and informal education. Our students have the opportunity to do an internship or study in partner medical institutions in Germany, Czech Republic, Portugal, Lithuania, Turkey, Italy, Poland, Japan, Iran, Great Britain and other countries, where they thoroughly study selected disciplines of their choice. Important is the fact that the period of academic mobility is considered by the University as training and all grades obtained in the partner institution are transferred into students' records.
We never stop looking for new opportunities to make our University more and more internationalized. Building new partnerships across the globe adds value to the education here, in Ukraine, in Kharkiv. It opens new horizons to you as a student, as a researcher, as a professional.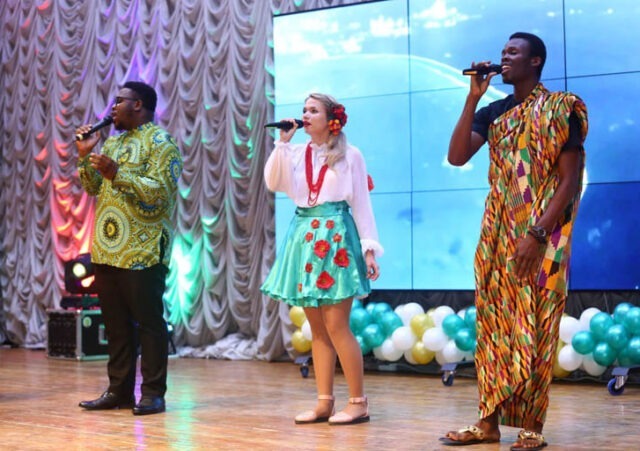 Leisure time of the students of Kharkiv National Medical University is filled with a lot of various events that turn the years at the university into an unforgettable time.
There is a Youth Center, which comprises 28 ensembles, artistic groups and clubs of interests. In this center of culture and leisure you can become a participant of any creative team by your taste and preferences and successfully tour and take an active part in cultural and artistic life of the University and Kharkiv.
The international students of our university organize ethno-art groups or events, such as the festival "Fair of Cultures", ethno-quests, photo exhibitions and competitions.
Our university also has a sports complex, which offers the students an op
Pages from the life of the university