Will take ISIC-2022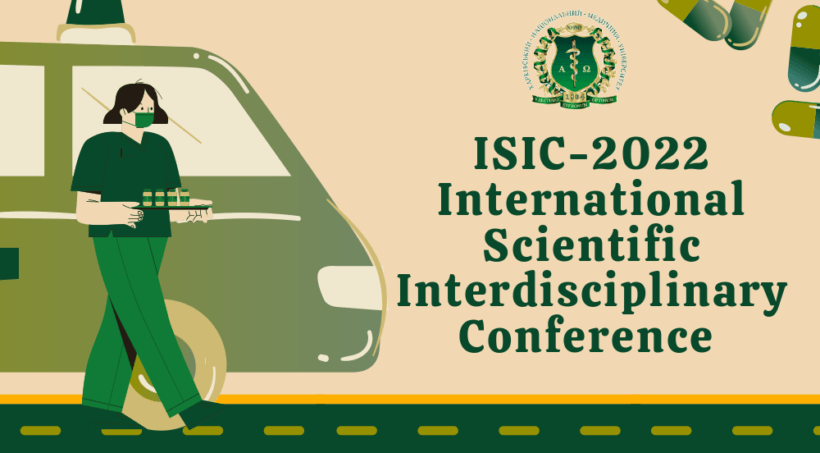 Dear colleagues!
Administration and the Scientific Society of Students, Postgraduates, Doctoral Students and Young Scientists of KhNMU invite you to participate in International Scientific Interdisciplinary Conference – 2022 (ISIC), which will be held at Kharkiv National Medical University from November 23rd till November 25th 2022.
Term of participation in ISIC-2022
In order to participate, please register until November 11h, 2022 by the link:
http://bit.do/ISIC2022
or
https://forms.gle/eeoouWDuXBXVZi3p8
The language of the conference is English.
Requirements for abstracts:
Abstracts should be typed in Microsoft Word text editor with the following requirements:
Language – English, font – Times New Roman, size 14, line spacing 1.5, margins – 20mm each.
The structure of abstracts should consist of the following points:
1 line- Surname, initials of the author
2 line – Title of the work (all capital letters)
3 line – Full name of the educational institution, department, city, country
4 line – research advisor.
All abbreviations (excl. units of measurement) may be used only after mentioning the full term.
Units of measurement are drived by the International System of Units (SI). The text of abstracts should not contain transfers of words, tables, pictures.
Total volume – up to 3000 signs.
Authors are responsible for the authenticity of the information. Only original works based on the results of  own researches are accepted. Abstracts will be verified for the presence of text borrowings according to the "Provisions on the procedure for verification of text documents for the presence of text borrowings in KhNMU".
Only students and young scientists (up to 35 years old) can be the authors of abstracts!
One person can be the author or co-author of no more than 2 abstracts and one oral presentation.
Certificates and the abstract book will be sent to your e-mails after the end of the conference.
Organizational fee for participation – the conference is free this year.
In case of any organizational issues contact
The Head of  Scientific Society of Students, Postgraduates, Doctoral Students and Young Scientists of KhNMU
Pliekhova Olesia
Tel. 0682609073 (plehovaolesja@gmail.com)
Sventozelskaya Tatiana
Теl. 0989712234
khnmu.snt@gmail.com
facebook.com/khnmu.snt
instagram.com/khnmu.mnt